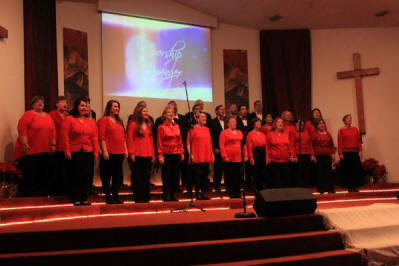 ABOUT OUR MUSIC MINISTRIES
The Worship and Music Ministry of Avondale Baptist Church exists to bring honor and glory to a holy, perfect God who is worthy of our praise!  It is our desire to use the gifts that God has given to help usher in the power and presence of God each and every time we gather in His NAME. We count it a high calling and holy privilege to worship God and lead others to do the same!
Worship is a lifestyle of offering our all and our best to God.  We are quick to acknowledge that worship is not merely what we "do" on Sundays.  It is not simply singing songs as we gather each week.  We choose to give God first place in our lives every single day.  We also recognize that we cannot lead someone to a place we haven't already been ourselves; so our private times of worship are as vital as our moments of worship as we gather together with God's people.
"I will not offer anything that costs me nothing." 2 Samuel 24:24
"To whom much is given, much is expected!"
Luke 12:48
"Therefore, I urge you, brothers and sisters, in view of God's mercy, to offer your bodies as a living sacrifice, holy and pleasing to God—this is your true and proper worship." Romans 12:1
This is the heart of the Worship and Music Ministry at Avondale Baptist Church!
JOIN OUR MUSIC MINISTRIES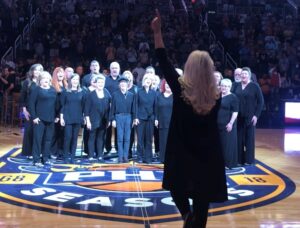 Our Worship-leading Choir rehearses each Wednesday night at 6:00 pm. If you love the Lord and have a good singing voice, (no formal training required; but an ability to sing in tune is;), then we would love to have you join us as we lead in worship and bring powerful songs of praise to encourage the Body of Christ. One of our greatest joys is to reach outside the walls of the church, using our musical gifts as a tool to proclaim the Gospel!
Vocal and Instrumental Praise Teams
Our Praise & Worship Team currently rehearses each Thursday morning at 11:00 am. We also record our online worship service on that day. The praise team includes excellent vocalists as well as talented instrumentalists. If this is you, please reach out so we can get to know you!
Our Technical Team includes sound, visual production, recording, and additional areas as technology and needs advance. If this is an area where you are gifted, we would love to meet you and encourage you in that gifting.
Youth Choir & Youth Praise Team
We believe in the importance of training future leaders, so our Children's Choir, Youth Choir, and Youth Praise Team are vital to this ministry! We enthusiastically use teens and children in worship on a regular basis. Please contact us for up-coming rehearsal times for these groups as we open all of our ministries!